KINGDOM SPORTS
STAFF AND BOARD

Back row right to left: Scotty Kessler, Harry Walls, AJ Trennepohl, Gordon Thiessen, Daniel Woods, Doug Langemeier, Roger Trennepohl, Justin Erickson; Front row right to left: Doug Pollock, Monte Lange, Ernie Mecca, Pastor Josh Thiessen, Kristi Espenschied, Cole Espenschied, Stacy Girard, John Girard; Not Pictured: Ron Brown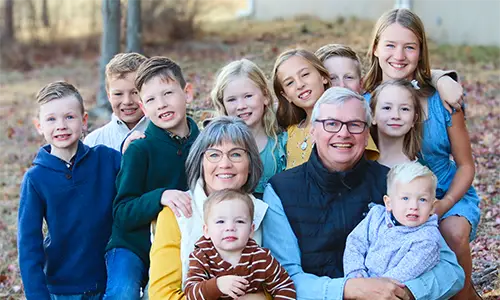 Gordon Thiessen, Co-Founder/Director
Gordon has over 30 years of coaching experience with sports teams and ministries, Gordon has spoken throughout the Midwest sharing his advice on perseverance, character, and faith with audiences of all ages and from all walks of life. He is a coach, speaker, author and certified trainer for 3Dimensional Coaching and Hardwired Coaching. Gordon has written Lessons from Nebraska Football and Cross Training Workout. He also co-wrote two series' of books: Team Studies on Character and Called to Compete.
Gordon served on staff with the Fellowship of Christian Athletes for 28 years before co-founding Kingdom Sports with Ron Brown in 2018. He also founded Cross Training Publishing that has published more than 300 books and resources for athletes, coaches, and parents. Gordon played for the Nebraska football team in the '70s for Tom Osborne and later coached high school basketball and football for 25 years. He worked with Coach Tom Osborne to publish three books: On Sold Ground, Mentoring Matters, and Coaching Matters. He is married to his wife Terri and have four grown children with eight grandchildren that live in Omaha.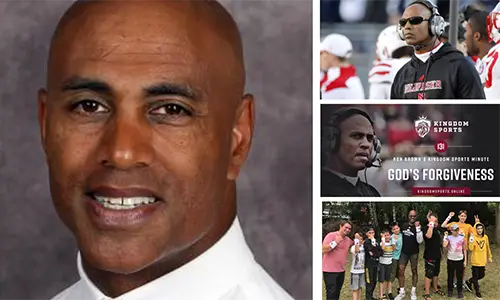 RON BROWN, Co-Founder
Ron is a member of the Fellowship of Christian Athletes Hall of Champions and a former Nebraska FCA Director. Ron is the Senior Offensive Analyst for the University of Nebraska football team. He spent 24 seasons as an assistant coach at Nebraska while they won three national championships. In addition to his coaching responsibilities, Ron travels the State conducting Pass It On Camps (March – July) which focus on teaching sport fundamentals plus how to integrate Kingdom (biblical) principles with sports. He recently returned from Poland where he spent time assisting with Ukrainian refugee kids and sharing the gospel (pictured above). Ron has recorded over a 135 Kingdom Sports Minutes drawing on experiences from his personal life.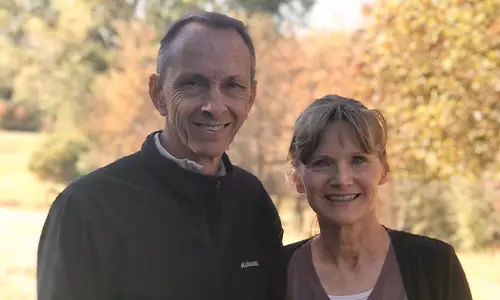 Daniel Woods, Assistant Director
dan@kingdomsports.online
Dan grew up in Nebraska and was a professional educator for 35 years. He served in public schools and private Christian schools in Nebraska as a teacher, principal, and superintendent. Most recently, he served as the Head of School at Northland Christian School in Houston, Texas. The Lord saved him while serving in the education field and enjoys teaching on Biblical Worldview issues. Daniel has been married to his wife, Kimmarie for 36 years and they have three grown children, Danica, Rebecca, Luke and nine grandchildren.
Monte Lange, Administrator
monte@kingdomsports.online
Monte has lived in Omaha since 1990, moving here with her late husband from Little Rock, Arkansas. She has a multifaceted background in regulatory work with the Arkansas Department of Agriculture, finances and investments with the Nebraska Farm Bureau, and contract negotiations for Union Pacific Railroad in Labor Relations. She currently lives with her son, Zach. She serves in her Church in several capacities including leading a ladies' Bible study. She enjoys utilizing her education, training, and talents to serve the Lord wherever He leads her.
Ernie Mecca, Wyoming Director
ernie@kingdomsports.online / 307-690-3349
Ernie has been a high school coach in Wyoming for 29 years. During his coaching career he has built positive relationships with a large number of coaches across the state. In addition to his coaching career he was a teacher for 10 years, an Athletic Director for 15 years and a high school Principal for 5 years. He understands the heart of coaches and the challenges they face. He has served on the Boards of the Wyoming High School Activities Association, the Wyoming Coaches Association and the Wyoming Interscholastic Athletic Administrators Association.
During his coaching career Ernie along with his wife of 41 years, Cindy, served as local FCA volunteers for 9 years before he left public education to join the FCA staff. He served on staff with FCA for 17 years before joining the Kingdom Sports Team. His positions with FCA included State Director, Coaches Ministry Director, Sports Camp Director and Area Representative. Ernie's tenure and experiences in public education and FCA will serve him well in his new role mentoring and discipling the coaches of Wyoming.  Ernie & Cindy reside in Laramie, Wyoming. They have two grown children and four grandchildren.
Cole Espenschied, Illinois Director
cole@kingdomsports.online / 309-222-0374
Cole oversaw the ministry of the Fellowship of Christian Athletes (FCA) in the Greater Peoria Area of IL for over 15 years before joining the Kingdom Sports Team. He is a 2004 graduate of Greenville University where he played basketball and football. The Lord has used Cole's involvement with sports to impact his life for Jesus Christ in a powerful way.
Cole and his wife, Kristi, have a passion for helping coaches and athletes integrate faith and sports which has only grown over the years as they have coached themselves and led with FCA. By God's grace, Cole and Kristi have walked with coaches and athletes as disciplemaking missionaries in sport and have helped train and consult coaches and ministry leaders in Doing Sports God's Way that has resulted in great impact through multiplication. They currently reside in Delavan, IL with their four children Kenzi, Kasen, Micai, and Ryler. To learn more about Cole's ministry, click here.
John and Stacy, Chadron State & West Nebraska Co-Directors
girards@kingdomsports.online / John 308-760-4099 / Stacy 308-760-4605
John and Stacy oversaw the ministry of the Fellowship of Christian Athletes (FCA) in the Panhandle of Nebraska for almost 7 years before joining the Kingdom Sports Team. Both graduates of Chadron State College, John and Stacy feel called to faithfully serve on the campus and in the community. With many years of coaching experience, they are passionate about discipling coaches, athletes, and future leaders into a growing relationship with Jesus Christ. John and Stacy involve their whole family in this discipleship process. They have three children Malachi, Bristol, and Asa.
Zach and Nicky Banzhaf, Chadron State Rep
zach@kingdomsports.online / nicky@kingdomsports.online / Zach 308-430-1593/ Nicky 308-430-5291
Having grown up in Chadron and graduated from CSC, Zach and Nicky are passionate about seeing community members and athletes on campus thrive. After teaching and working at Chadron State, Zach has now dedicated his understanding of young people to ministry. Zach is passionate about reaching young people online with a Gospel message and helping the identity of Kingdom Sports expand and flourish. Nicky is currently a coaching assistant for cross-country and track at Chadron State College. She is a CSC alum who competed collegiately in the distance programs. Nicky strongly believes that in order for people to live their best and most healthy lives, they need an accurate picture of who Jesus is and who Jesus says they are; counseling helps people excavate any lies or warped views of Jesus or self. She is most passionate about assisting athletes and individuals in the process of living free and unburdened lives through the use of counseling tools.
Allen (AJ) Trennepohl, Representative of S Dakota School of Mines
aj@kingdomsports.online / 970-571-3663
AJ, Ashley, sons Oliver and Trennepohl are excited to serve at the South Dakota School of Mines in Rapid City.  AJ moved to Rapid City as a student athlete in 2006, where he enjoyed a stellar college basketball career as a Hardrocker. Since then, he has accumulated over 10 years of experience in skill instruction, coaching, and consulting.  Both AJ and Ashley are graduates of Mines and understand the mental and physical environment of the school and want to help these brilliant young men and women find their identity in Christ Jesus, His sons and daughters.
Scotty Kessler, Kingdom Sports At-large
Scotty Kessler is the Director of The Robert Coleman School of Discipleship and The Wes Neal School Of Sports Ministry at Faith International University and Seminary in Tacoma (WA) (https://faithseminary.edu/) where he is also an adjunct professor in both programs. His primary focus is on supporting the nation of Israel and the Jewish people worldwide in prayer and he regularly visits Jerusalem to pray for its peace and blessing. Additionally, he is a consultant on initiatives related to advancing the Kingdom of God; prayer, discipleship and the integration of sport and faith which includes partnering with the Kingdom Sports Ministry. He lives in Omaha (NE) with his wife Tammy and daughter Rylee. Additionally, he has two adult sons, Taylor and Reid Roelofs.
Tessa Walter, Rapid City, SD Representative
tessa@kingdomsports.online
Tessa was born and raised in Rapid City, South Dakota. She competed in almost every sport growing up and is a Chadron State Alum in track and field. She is currently a track and field coach at a local high school in Rapid City and is raising two littles, Wrenley and Wilx, with her husband, Jake. Having grown up in Rapid City, she is passionate about seeing young athletes become the best they can be both on and off the playing field.  Tessa knows with all her heart that the only way to have true joy and freedom here on earth is to know Jesus Christ. Her mission is to build relationships with young women and pour into their lives. She desires to do life with them, disciple them, and show them who Jesus is.
JOIN THE TEAM
A 5-day per week or 410-day Bible reading plan, journal, and scripture memory plan through the Old and New Testament.